We are pleased to confirm the speakers and theme for the 2017 David Hunter Memorial Lecture.
2017 David Hunter Memorial Lecture
Looking back, looking forward – steps towards justice, rights, respect
6pm, Tuesday 31 October 2017 – please join us for refreshments from 5.30 pm
Australian Centre for Christianity and Culture, 15 Blackall Street, Barton
This year, the David Hunter Memorial Lecture will feature speakers who can reflect on the issues from 20 years ago that inspired the first Sea of Hands, as well as speakers who are taking the next steps through the Uluru Statement.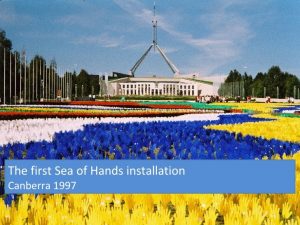 Speakers
Tristan Ray, who was involved in organising the first Sea of Hands (https://antar.org.au/sea-hands)
Shannan Dodson, communications and digital consultant, and member of the ANTaR National Committee
Chris Bourke and Jennie Gordon, ACT representatives on the Uluru Position Working Group (https://www.1voiceuluru.org/)
There will be a Sea of Hands display and the opportunity to sign a hand and show support for the continuing work. Please let us know if you would like to share stories or memorabilia relating to the first Sea of Hands.
For more information, email info@antaract.org.au
or see: https://antaract.org.au/2017/09/25/2017-david-hunter-memorial-lecture/.
Sea of Hands photo from: https://www.slideshare.net/ANTaR/sea-of-hands.
Can you help ANTaR ACT?
We've had a great year, but so much more that we want to achieve – can you help us?
In particular, we are looking for:
Help in promoting the upcoming David Hunter Memorial Lecture
Help in coordinating ANTaR ACT stalls at events around Canberra
Help in putting together the monthly bulletin on local events and ANTaR ACT activities.
Please email info@antaract.org.au if you would can help or would like to find out more. It is not necessary to be able to come to the monthly meetings, although always welcome.
The next ANTaR ACT monthly meeting will be held on Monday 2 October (yes, a public holiday), 6pm, at King O'Malleys, in the Snug Room behind the bar. Come along and help us in planning the David Hunter Memorial Lecture and mark the 20th anniversary of the Sea of Hands.